A Covered Bridge in Georgia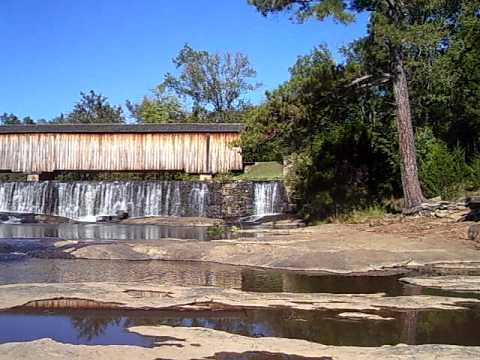 Today I had an appointment in Elberton, Ga. when I finished I drove on Hwy 72 towards Athens. I passed a sign that said Watson's Mill State Park. It was a beautiful October day, I was intrigued, I love an adventure so I visited the park.
Watson Mill Bridge State Park today covers more that 1,000 acres of land. Amenities include camping, picnicking and picnic shelters, canoeing, fishing, hiking, and trails for biking enthusiasts. There is a separate area for horseback riders that includes stables, 12 miles of riding trails and camping area for riders.
Watson's Mill Bridge is near Comer, Georgia. It actually spans the South Fork of the Broad River and is on Watson's Mill Bridge Road. Go figure. It connects Ga Hwy 72 and Ga Hwy 22. The Bridge was built by W.W. King in 1885. Mr King was the son of a slave. The elder Mr. King had built a considerable reputation as a Covered Bridge builder and had passed this skill down to his son. He was so good at building covered bridges he was freed even before the civil war to pursue his craft. originally the bridge was 236 feet long but when moved to it's present location was shortened to 229 feet. It remains the longest covered bridge in Georgia and one of the longest in the U.S.
Share on Facebook