Sunday in Helen, Ga.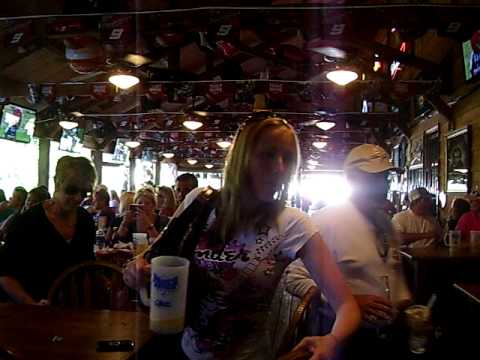 Helen is a re-creation of a quaint German alpine village nestled in the northeast Georgia mountains. It is packed with specialty shops from one end to the other. It is a huge tourist attraction. It has also attracted a German population that has chosen here to retire or start businesses. Nestled off the main drag behind Paul's steak house is a place the locals call Margaritaville. It's true name is Viele Margaritas and it might be the best kept secret of this small town. It is a covered deck overlooking the Chattahoochee river complete with live music and more big screen TVs than I could count. If your into sports be it baseball, football, soccer, Nascar, or basketball this is the place to enjoy the game with old friends or with new ones you just made. They are gracious at changing the channel if your sport isn't on one of the screens. During the summer you can watch folks "ride the Hooch" as they float by in tubes down the river. When the temperatures start to drop they have heaters placed throughout the place to keep patrons comfortable. It's a great destination for a day trip on your Harley.
The best part for me is the band. I asked their name and was told "He's Chris and I'm Noah" so that's what I've been calling them. The audio does not do HCIM justice from my Kodak Easyshare camera and I do apologize for running out of storage space during filming. (It was a busy weekend) The best way to experience Chris and Noah is to visit them in Helen. They play a bluesy mix of B.B. King, Z Z Top, Credence, Jimmy Buffet, Lynard Skynyrd and many more. They do a fantastic rendition of the "Zac Brown Band's" song "Free" that has most patrons singing along. Kids from 8 to 80 can be seen on the dance floor kicking their heels up to the sounds this band makes. No one can help but tap their toes when Chris and Noah are making music. It is worth the trip to Helen, just an hour north of Atlanta to see and hear these guys.
The staff here is great! They are friendly and always ready to help. Oh yes, one other thing. They do have a full bar but I recommend you buy a mug full of your favorite draft beer from Margaritaville for $8.00. You can bring the mug each time you return and they will refill it for only $5.00. You can tell the locals as they will all be carrying their mugs in hand as they walk to the deck. The great thing for me is they have AMBER BOCK on draft!!
til next time,
gary
Share on Facebook